Let the debates begin!! The Giants confound the experts again, as all the Fox pre-game talking heads picked the Royals to win, and yet the Giants win instead. They announcer didn't notice the Giants had a chance to win until about the seventh or eighth inning and never gave them their props. And friggin' Buck whines and jokes about why he's despised as an announcer. He's a horses ass every step of the way.
Aside from Bumgarner's performance for the ages, the Giants amazingly close this one out without a HR in the series, with an 0-12 performance from their 1-2-3 hitters tonight and without much of an offensive contribution from their top offensive player.
The debate today seemed to center on whether or not this third title in five years stamps the Giants as a "dynasty". In modern day terms, I think they qualify. Chicago columnist Phil Rogers was on Sirius/XM saying that the Atlanta Braves were more a dynasty since they won /dominated more consistently over a longer period of time in spite of not winning more than one World Series title. Leaving out the irony of a Cubbies sportswriter commenting on "what makes a dynasty", does he really think that Braves fans wouldn't trade an occasional flop for more World Series success? This USA Today graphic doesn't even list the Bravos.
This was Panda, as cool, calm and collected as Bumgarner would be later. And he backed it up with his own signature performance, both in this game and this series. Pay the man, just pay the man!!
If the Giants could find money under the seat cushions to pay Hunter Pence after he came over and sparked the team. If the Giants feel they could find enough money in the budget to make a competitive run at Jake Peavy, who openly flirts and makes googly eyes at both the Cardinals and the Cubs while the Giants are competing for this, Pablo's third Giants title, while Peavy by comparison pisses down his leg with his performance in the World Series and spends his free time polishing his future free-agent bona-fides, then you guys better damn well sign Pablo Sandoval first. He means more to the franchise and more to Giants fans than Jake Peavy ever while, so put that in your calculations and smoke it.
from CSN Bay Area.com
http://www.csnbayarea.com/giants/giants-re-signing-sandoval-well-do-best-we-can
"

Pablo's at the top of that list. We all know it. Every negotiation is different. Every intention on the part of the player is different. I know we love Pablo and he loves the Giants and we'll see what happens.

"

— Giants GM Brian Sabean
And how about Jeremy Affeldt. Under-rated, under-appreciated Jeremy Affeldt. Turning in another spit and bailing wire performance that gets the ball to Bumgarner with the outcome still intact after it looked like Hudson had tilted momentum the Royals way. Affeldt righted the ship and I suppose for that gets awarded the victory. More folks than the official scorer should appreciate what Affeldt did getting the Win in this game.
from CSN Bay Area.com
http://www.csnbayarea.com/giants/affeldt-tearful-upon-being-named-winning-pitcher-game-7
"

I couldn't be more honored that I was a part of this. I can't wait to see the people in San Francisco. We pitched, and pitching wins championships.

"
—
Giants reliever Jeremy Affeldt
And how about Joe Cool, Joe Fundamentals or whatever nickname eventually sticks doing it with his glove rather than his bat. Where would we be without him righting the ship at 2B this year? And thank God for replay, right? Poetic justice.
Way to go, Joe!!! Hanging around Brandon Crawford is beginning to rub off on your glove. Hopefully, your bat rubs off on his a little bit more down the road.
It looks like any game that ends in a
Buster hug
is good for Giants baseball history. If it's not Wilson, Romo and now Bumgarner, to say nothing of Cainer and Timmy for their no-no's and perfectos, these man hugs never get old.
And last but not least, Bumgarner clearly makes the grade among scouts and old-school pitching aficionados.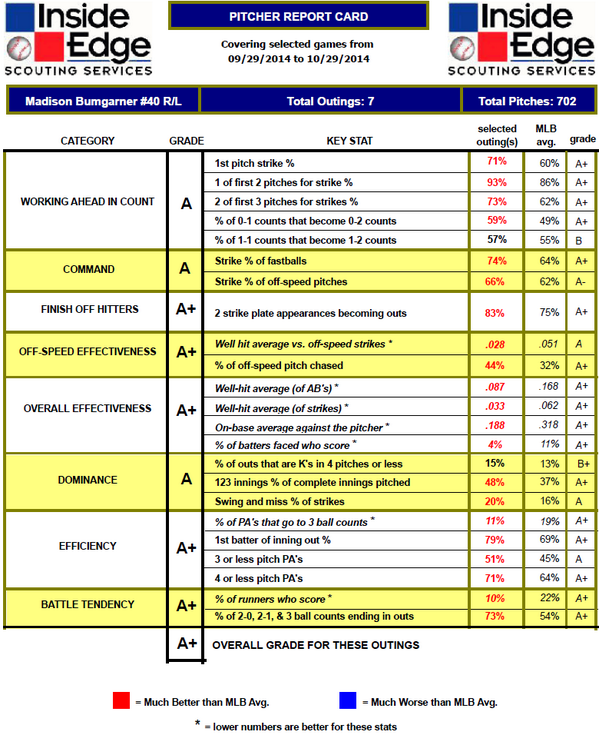 I guess the amazing, unbelievable, unassuming way the Giants won this year and in some of the same ways, the other two years, makes it somewhat easy to dismiss them an under-rated, lucky and undeserving of matching up with other juggernaut teams from the past and present. I can tell you as a close observer of this team, luck has nothing to do with it. Pluck and perseverance and stick-to-it-iveness and stick-togetherness DOES. certainly. The essence of the word TEAM.
Three titles in five years and we could be celebrating and debating about four titles in five years if they don't lose Posey to Cousin's cheap shot heard 'round the Bay Area. That's not luck chumps. And what some of these guys would know about championship mettle is beyond me. What a brain-dead Chicago columnist would know about what constitutes championship mettle after watching a team that hasn't displayed it in over a century and whose last feeble attempt at same resulted in "Curses Bartman" to say nothing about blaming your failures on a Curse of the Billy Goat is kind of like, well, a Chicago football columnist opining about good, solid QB play.
Celebrate Giants and Giants fans, You've earned it. Let some of there other guys piss and moan on each other while you're having another parade.