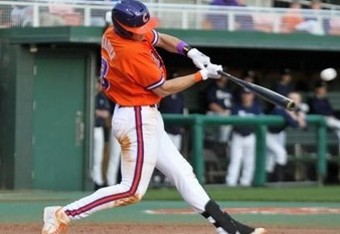 This is a really good pick for the Rays. Maybe Longoria-lite, but in the AL you can get away with it and worst case, one of them moves over to 1B.
This is the kind of bat I would like to see the Giants pick up. Pretty much a fully developed product, made for a quick run up the organization and into the bigs. Can't be screwed up by a system that seemingly can't develop bats or teach hitting very well.
Richie Shaffer to Rays: Video Highlights, Scouting Report and Analysis | Bleacher Report
: "A strong season both at the plate and at third has Shaffer pegged as one of the top position prospects in the 2012 draft class. His hit tool profiles as one of the most consistent in the draft and should continue to improve; this should be lethal when paired with his present power. A right-handed hitter, Shaffer has quick wrists that yields impressive bat speed, and more importantly, he knows how to manipulate counts in his favor."
Position: 3B
Height/Weight: 6'3"/205 lbs
Bats/Throws: R/R
DOB: 3/15/1991
College: Clemson
Year: JR
'via Blog this'