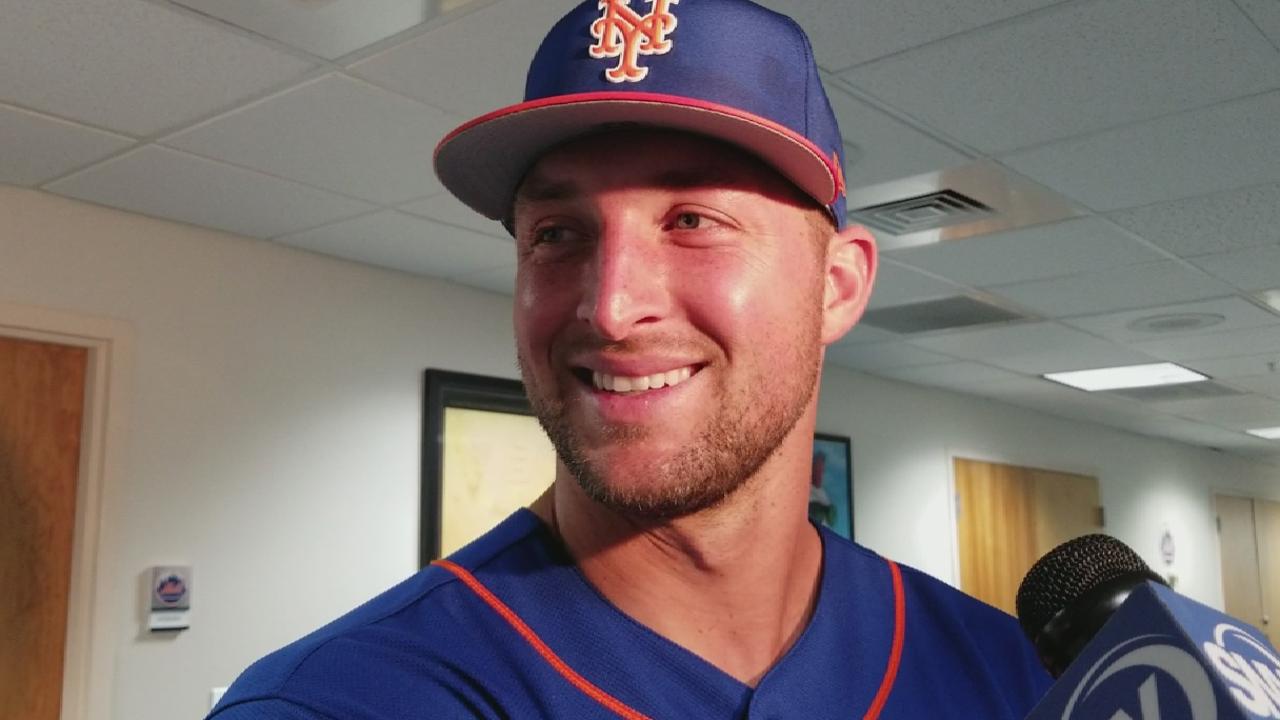 If he shows decent numbers in AA -- which is where the Mets would need to send him to determine if a late-season call-up is warranted -- then it seems like all systems are go for Timmy to take on the Big Apple.
from mlb.com
Tebow showing marked improvement at plate

Callaway on former NFL star: 'He's putting some really good swings on some pitches'

PORT ST. LUCIE, Fla. -- The procession of elite starting pitchers was new to

Tim Tebow

last year, when the quarterback-turned-outfielder faced

Rick Porcello

and

Max Scherzer

in the same month. Tebow did not fare well in those games. His transition to baseball was still raw.
And while it's true that no one ever quite grows accustomed to facing Scherzer -- "That's challenging for anybody," manager Mickey Callaway said after Tebow struck out against the three-time Cy Young winner on three pitches Friday in the Mets' 2-1 loss to the Nationals -- it's also clear that things have changed. Tebow's ability to recover, lacing a single off highly touted prospect

Erick Fedde

in his next at-bat, provided the latest evidence that he is improving before the Mets' eyes.




"I just feel a lot more adjusted to the game," Tebow said. "I feel like I have a much different approach and swing, so I can be a lot more patient seeing pitches and trusting all the work I've put in."




The differences between Tebow last year and this year are plain to the naked eye. Following an offseason spent transforming his batting stance, Tebow now positions himself more athletically, with his feet closer together. His swing is shorter, more compact. Tebow's trademark power is still obvious -- particularly during early spring batting practice, when he twice clanged balls off sheds beyond the outfield fence. But there is more to Tebow's game now than mere parlor tricks.

"He has a good swing, and he's putting some really good swings on some pitches," Callaway said. "He looks comfortable at the plate. And he tells us he's feeling more and more comfortable, like he's in a much better spot than he was last year at this time."
It is a swing that Tebow spent the better part of a year revamping, working this winter with Nationals second baseman

Daniel Murphy

and Mets assistant hitting coach Tom Slater. When Tebow arrived at camp last month, Mets players

Jay Bruce

and

David Wright

also offered advice.
Whether that translates into improved statistics from Tebow, who hit just .226 at two levels of Class A ball last season, remains to be seen. But he is at least building the foundation for the type of career general manager Sandy Alderson hinted at when he said he expects Tebow to play in the big leagues.

"I've been really comfortable," said Tebow, who finished 1-for-3 Friday to improve to 1-for-7 on the spring after missing several games recovering from a sprained ankle. "I think I'm getting more comfortable every at-bat."

Others are starting to take notice. Scherzer, who faced Tebow for the first time last March, did not attack him in quite the same way, starting the former Heisman Trophy winner out with a first-pitch curveball.
"I'm out there trying to get him out," Scherzer said. "I'm working on my instincts, what I needed to do to get him out."
Others will likewise give Tebow their best, not wanting to find themselves on the wrong side of headlines. In that sense and others, this spring is an audition for Tebow, who could advance straight to Double-A Binghamton if Mets officials see enough improvement.
It's something Tebow swears is not on his mind, even if such an assignment would put him two quick hops from the big leagues.
"I just worried about today, facing Max Scherzer," Tebow said, laughing. "We'll worry about that when I get there."




Sent from my iPhone